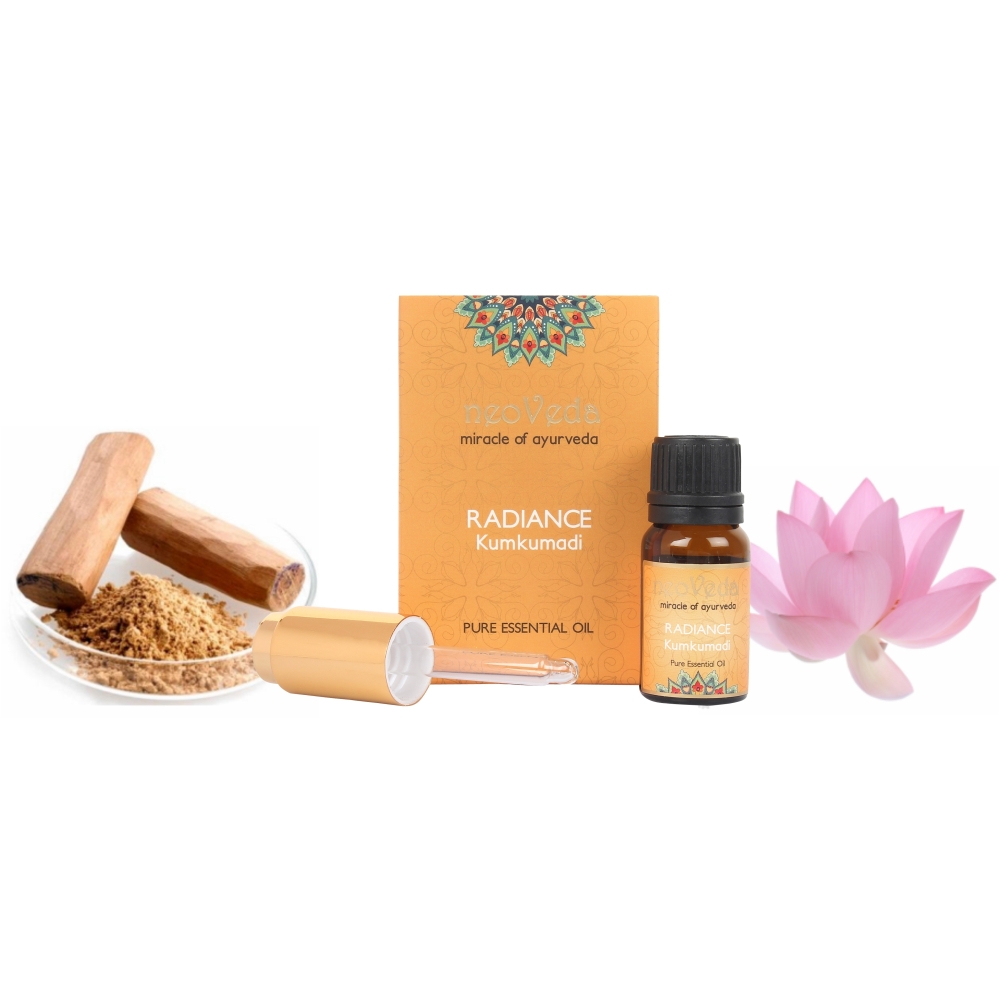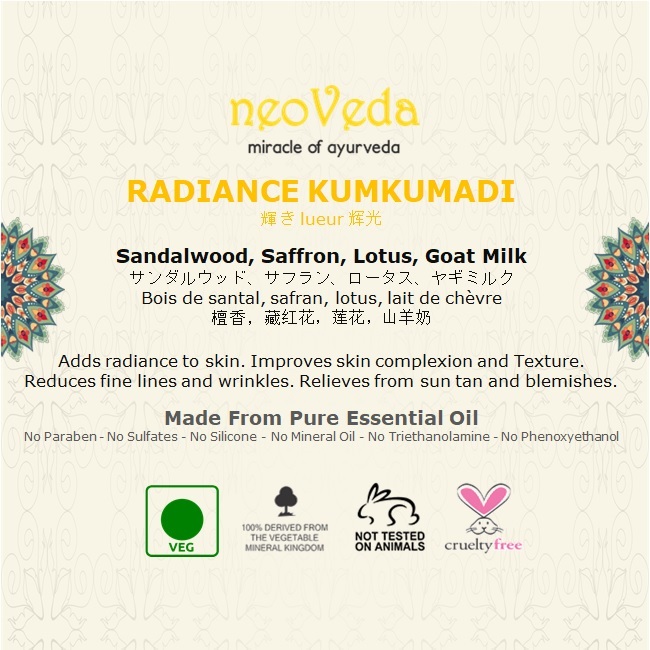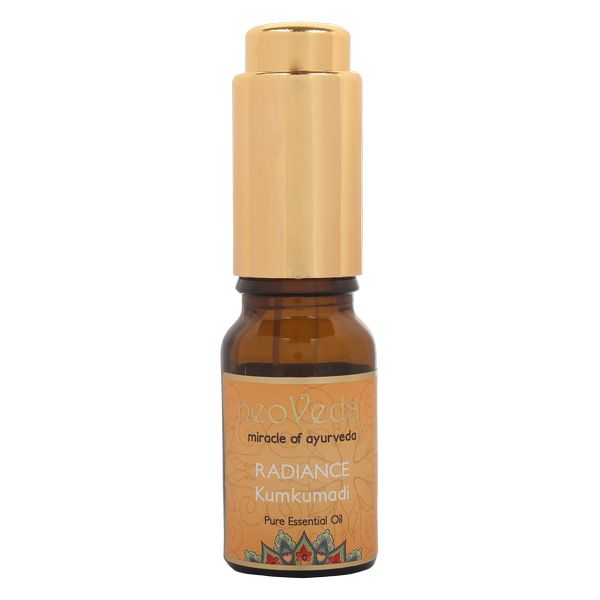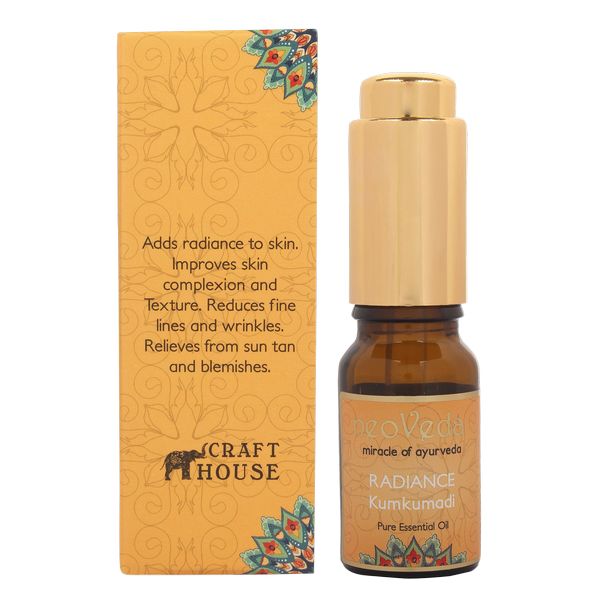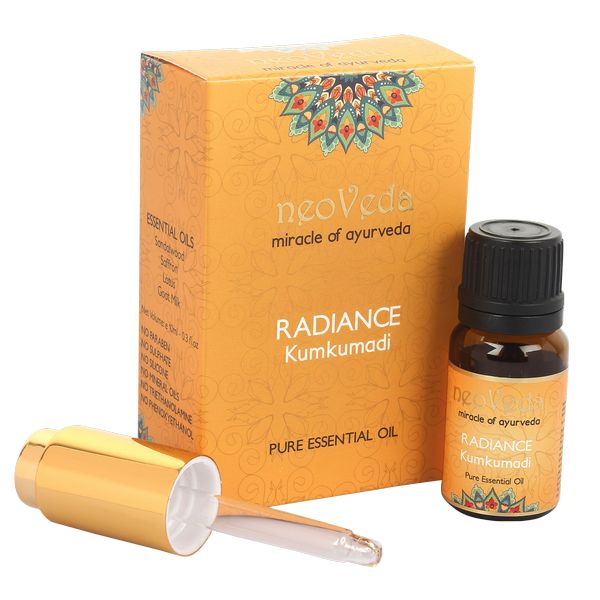 Adds radiance to skin. Improves skin complexion and Texture. Reduces fine lines and wrinkles. Relieves from sun tan and blemishes. This unique blend of oils and herbs is formulated to help skin look young and healthy.
Read More...
Ingredients of Natural Origin: 100%
No Paraben | No Sulphate | No Silicone | No Mineral Oil | No Triethanolamine | No Phenoxyethanol
SKU Code: 2410005 | Weight: 10ml
RADIANCE
Kumkumadi Oil
Kumkumadi oil is an ayurvedic oil which is highly placed for its efficiency and formulation.
This unique blend of oils and herbs is formulated to help skin look young and healthy.
It contains natural ingredients, which are safe for regular use and is anti aging.
It contains crocus sativus that relives blemishes, acne, acne scars, wrinkles and makes skin lighten and brighten.
Nelumbo nucifera and glycyrrhiza glabra helps to remove dark spots & deeply moisturizes skin.
Vetiver and santalumalbum have a cooling property to calm stressed skin.
Improves skin complexion and texture, makes it radiant & beautiful.
Ingredient(s)
Vetiveria zizanioides, Crocus sativus, Aquilaria agailocha, Laccifer lacca, Glycyrrhiza glabra, Santalum album, Ficus benghalensis, Prunus cerasoides, Nelumbo nucifera, Monochoria vaginalis, Goat's milk & Sesamum indicum.
neoVeda is certified from PETA for all products without cruelty on animals. People for the Ethical Treatment of Animals(PETA) is the largest animal rights organization in the world.
Not for Medical Use. For External use only. Store tightly capped in original bottle in a cool and dark place. Exposure to sunlight and air will damage the oil. This product is not intended to diagnose, treat, cure or prevent any disease.
Neoveda is the modern day adaptation of Ayurveda (Ancient knowledge of life and well being) and is a natural way to rejuvenate and relax both body and mind. Neoveda products are designed to balance 3 Bio Energies known as Vata, Pitta & Kapha in Ayurveda.The unique combination of Essential Oils and Plants Extracts keep skin and hair beautifully healthy and keeps mind relaxed.anti ageing
Dispatched in approximately 7 Working Days. To save on shipping charges buy multiple products.
Wipe the face with toner, then with 3 to 4 drops of kumkumadi oil lightly massage the face.
This can be used daily for night application only.