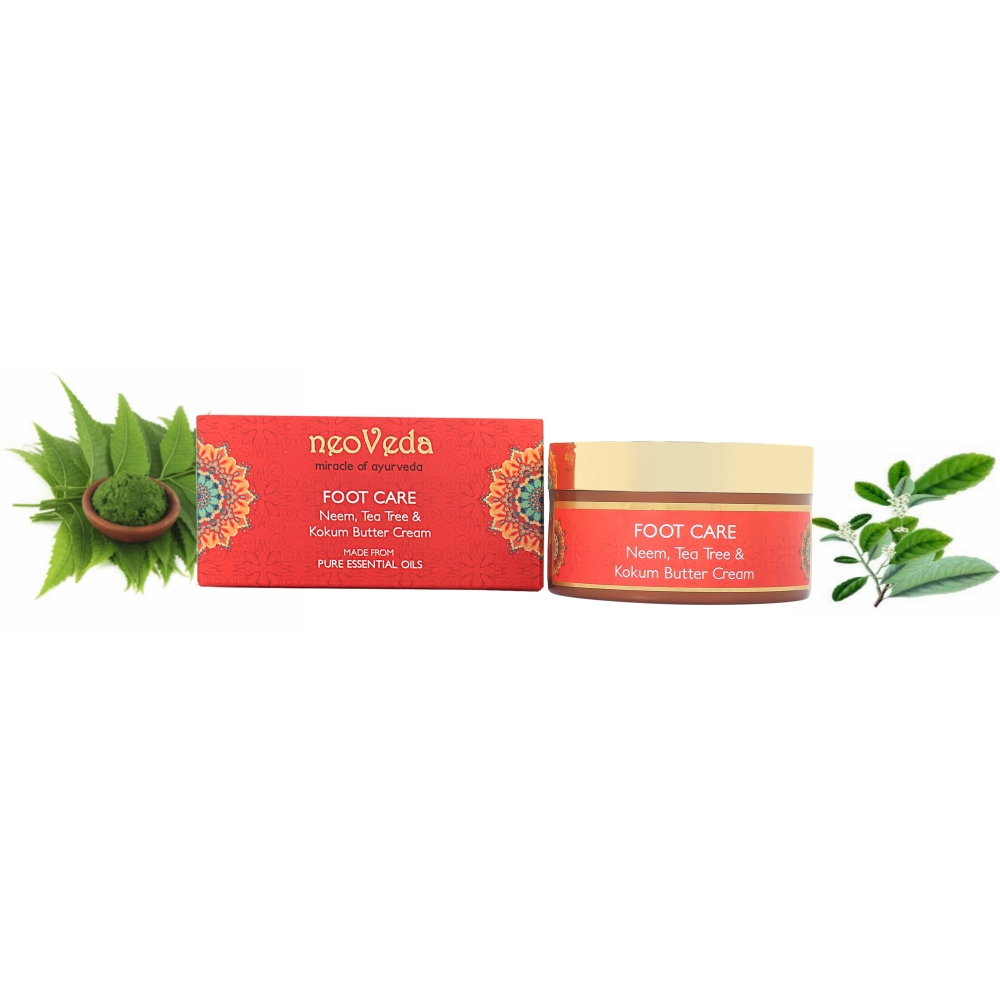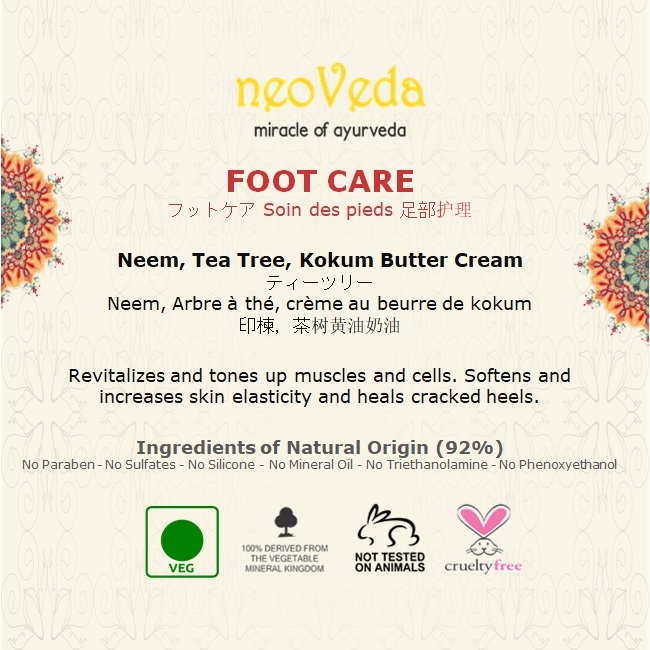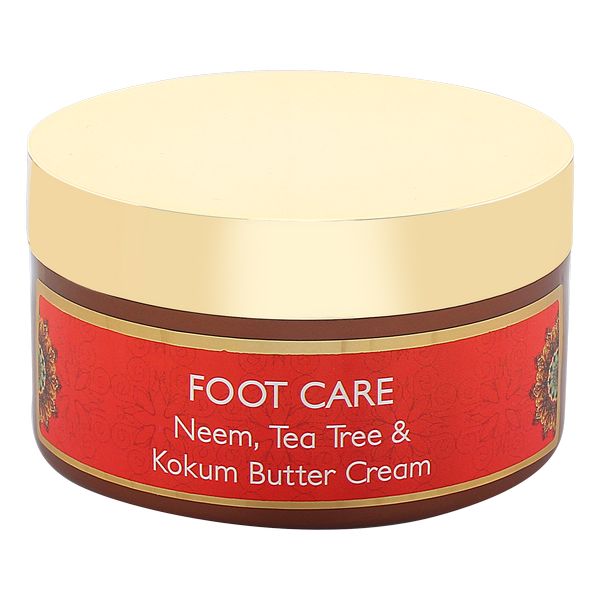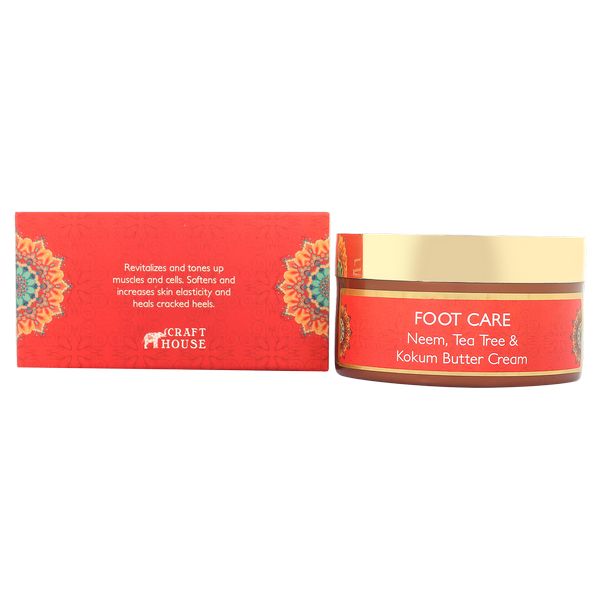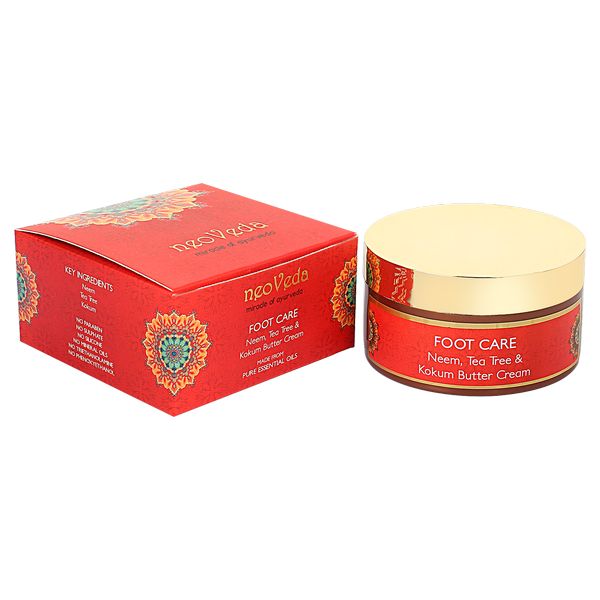 FOOT CARE
Neem, Tea Tree & Kokum Butter Cream
Revitalizes and tones up muscles and cells. Softens and increases skin elasticity and heals cracked heels.
Read More...
Ingredients of Natural Origin: 92%
No Paraben | No Sulphate | No Silicone | No Mineral Oil | No Triethanolamine | No Phenoxyethanol
SKU Code: 2440005 | Weight: 100ml
Sold Out
FOOT CARE
Neem, Tea Tree & Kokum Butter Cream
Revitalizes and tones up muscles and cells.
Soothes, heals and protects from callous and corns.
Foot massage cream improves circulation, stimulates muscles, reduces tension, and often eases pain.
A soothing and relaxing foot massage will help the body unwind, improve blood circulation and relax the nerves.
Also, foot massage gives you energy by releasing any blockages and relieving symptoms of stress and fatigue.
Key Ingredient(s)
Neem

Neem seed conditions dry skin and relax muscles.

Tea Tree

Tea Tree oil reduces itching, scaling and swelling.

Kokum

Kokum helps in moisturizing and nourishing callous skin.
Ingredient(s)
Aqua*, Glycerin*, Helianthus Annus (Sunf lower) Seed Oil*, Ceteareth 20 and Cetostearyl Alcohol, Isoamyl Laurate*, Caprylic/Capric Triglyceride*, Cetostearyl Alcohol*, Cera Alba, Glyceryl Mono Stearate*, Theobroma Cacao (Cocoa) Seed Butter*, Propanediol*, Garcina Indica Seed Butter*, Hydroxy Ethyl Urea, Glyceryl Caprylate (and) Glyceryl Undecylenate*, Glyceryl Stearate Citrate, L-Arginine, Carbomer 940, Allantoin, Eucalyptus Globulus (Eucalyptus) Oil*, Tocopheryl Acetate, Sodium Gluconate*, Triclosan, Menthol, Olea Europaea (Olive) Leaf Extract (and) Water*, Azadirachta Indica (Neem) Seed Oil*, Cinnamomum Camphora(Camphor)Oil & Melaleuca Alternifolia(Tea Tree) Leaf Oil*.
neoVeda is certified from PETA for all products without cruelty on animals. People for the Ethical Treatment of Animals(PETA) is the largest animal rights organization in the world.
Not for medical use. For external use only. Store tightly capped in original container in a cool and dark place. Exposure to sunlight and air will damage the product. This product is not intended to diagnose, treat, cure, or prevent any disease..
Neoveda is the modern day adaptation of Ayurveda (Ancient knowledge of life and well being) and is a natural way to rejuvenate and relax both body and mind. Neoveda products are designed to balance 3 Bio Energies known as Vata, Pitta & Kapha in Ayurveda.The unique combination of Essential Oils and Plants Extracts keep skin and hair beautifully healthy and keeps mind relaxed.
Dispatched in approximately 7 Working Days. To save on shipping charges buy multiple products.
Massage gently on clean feet or after scrubbing.