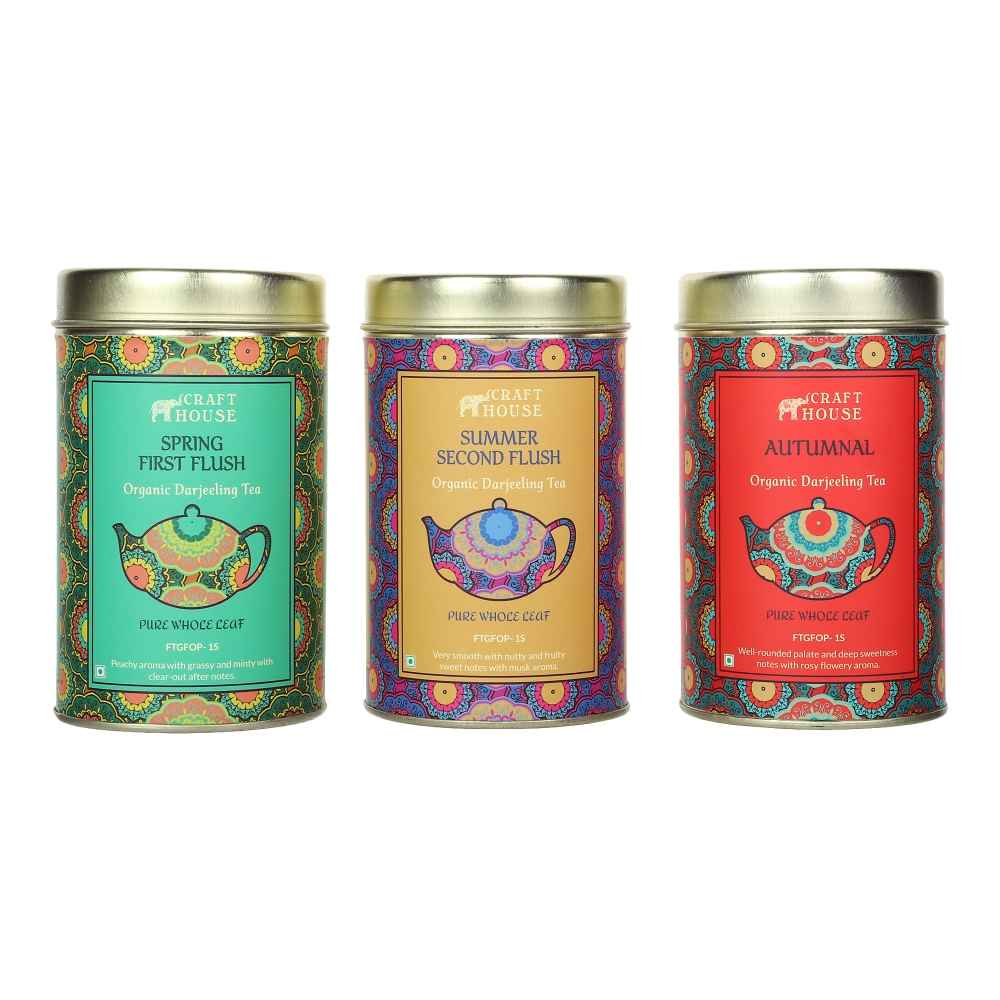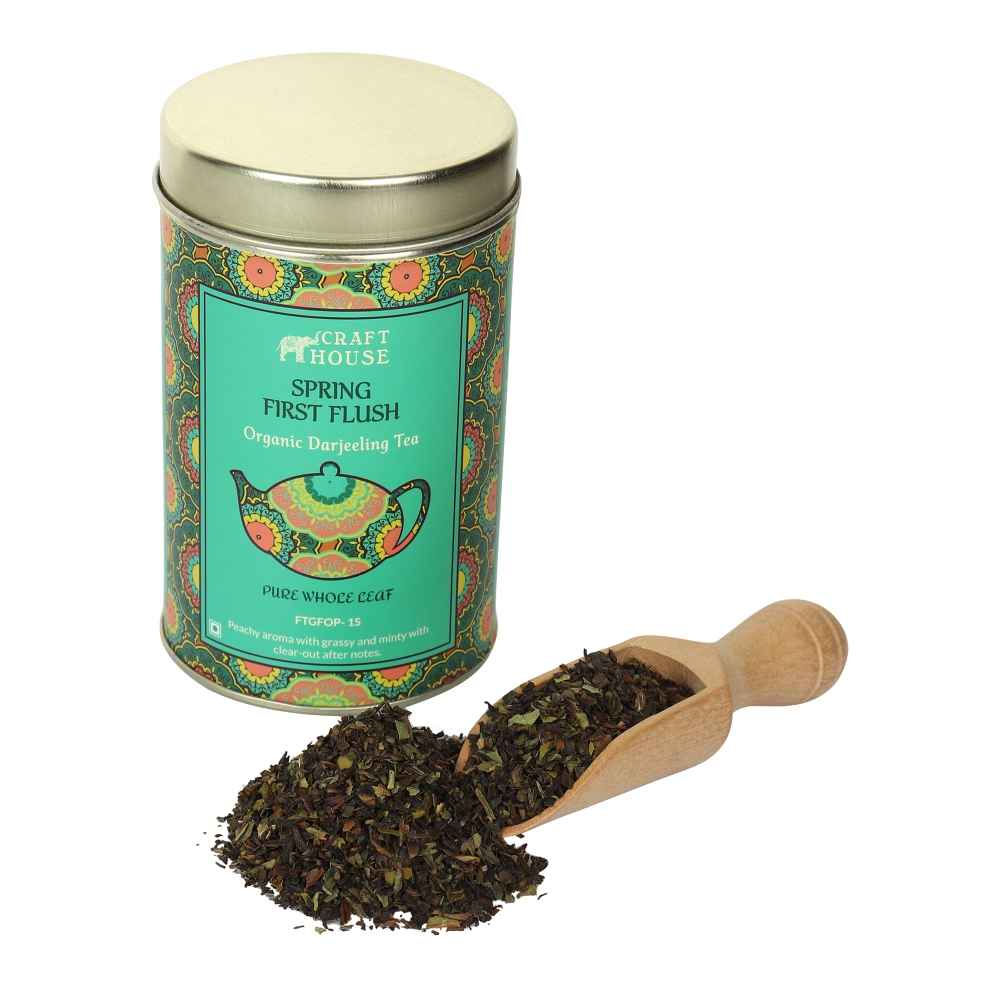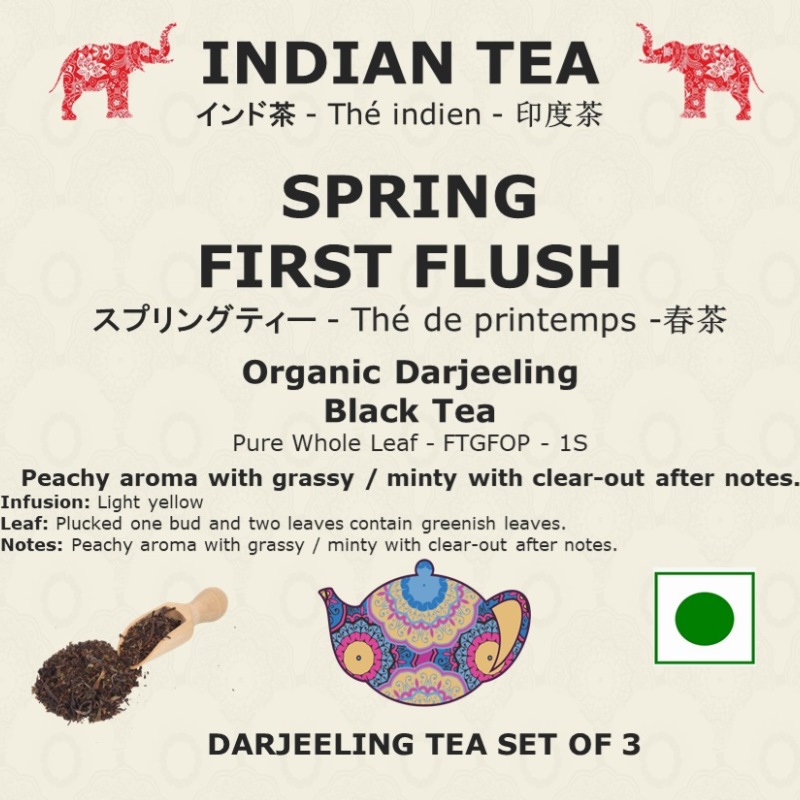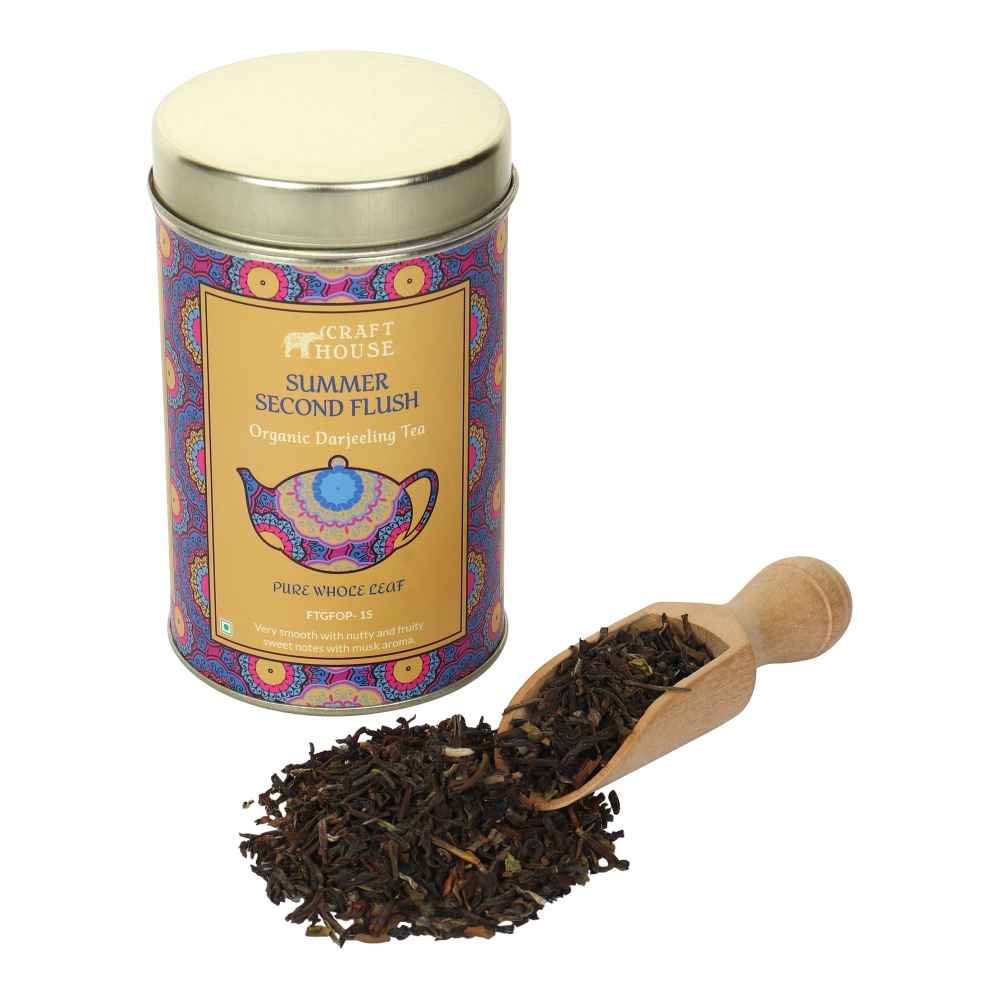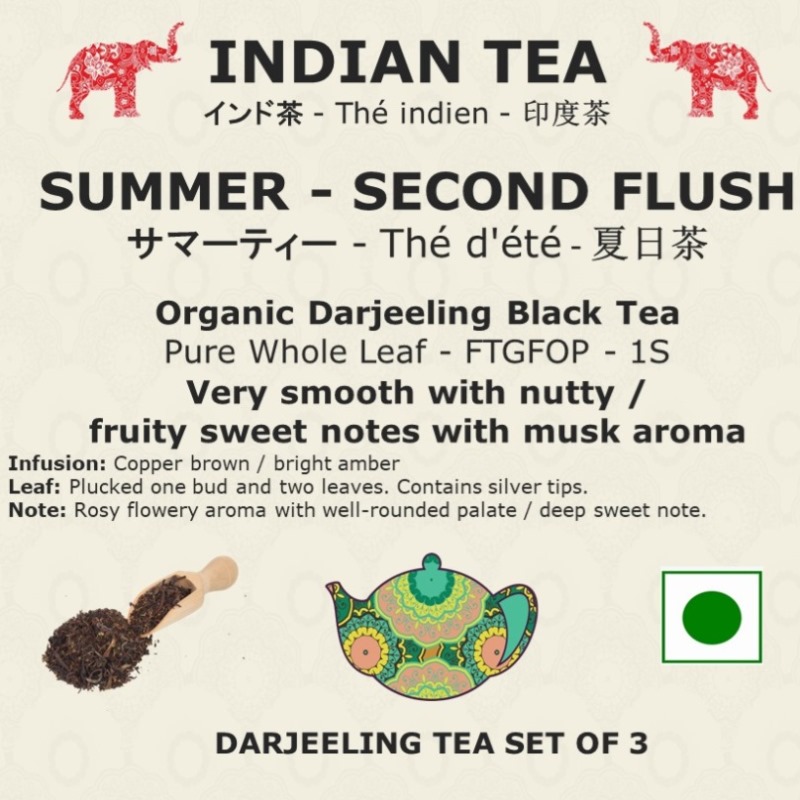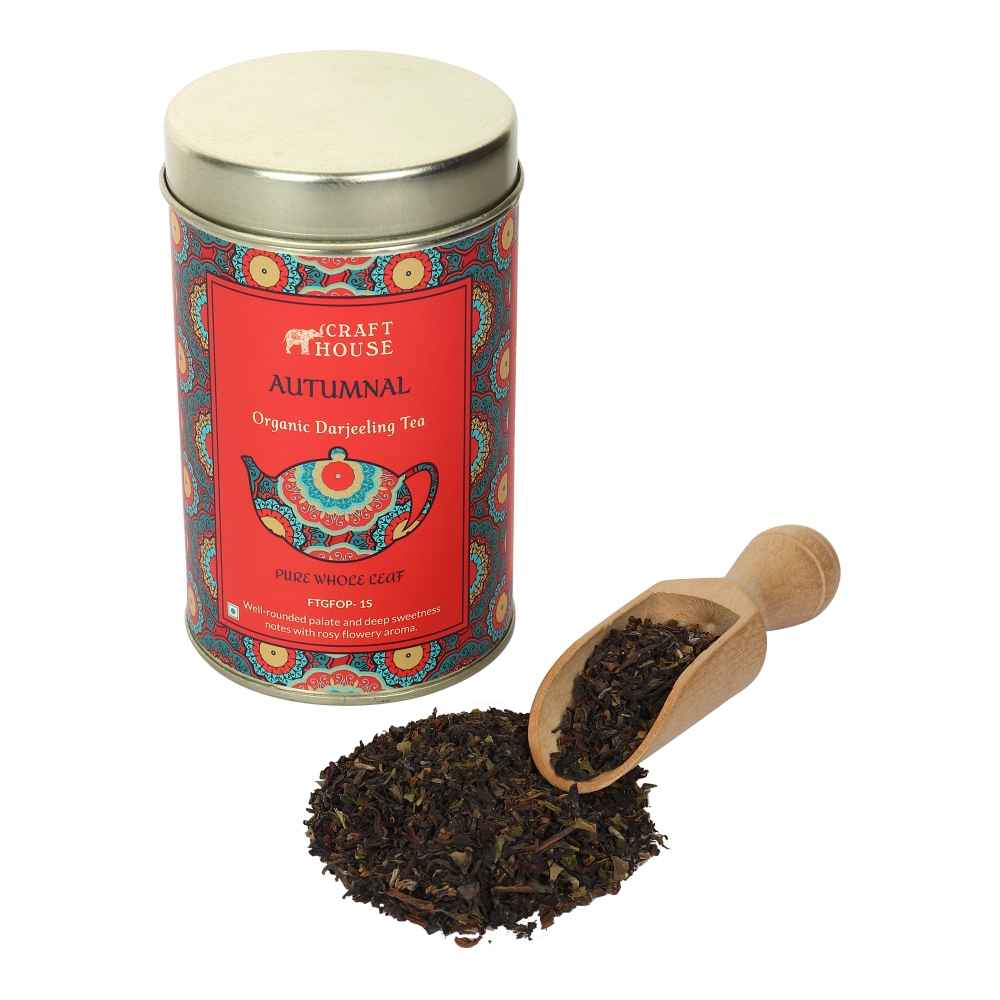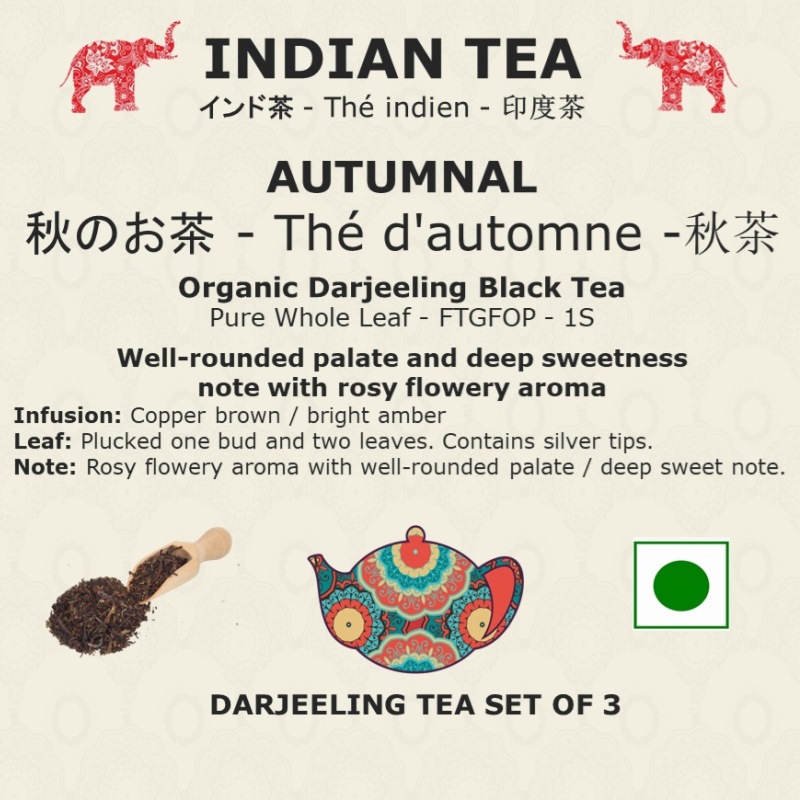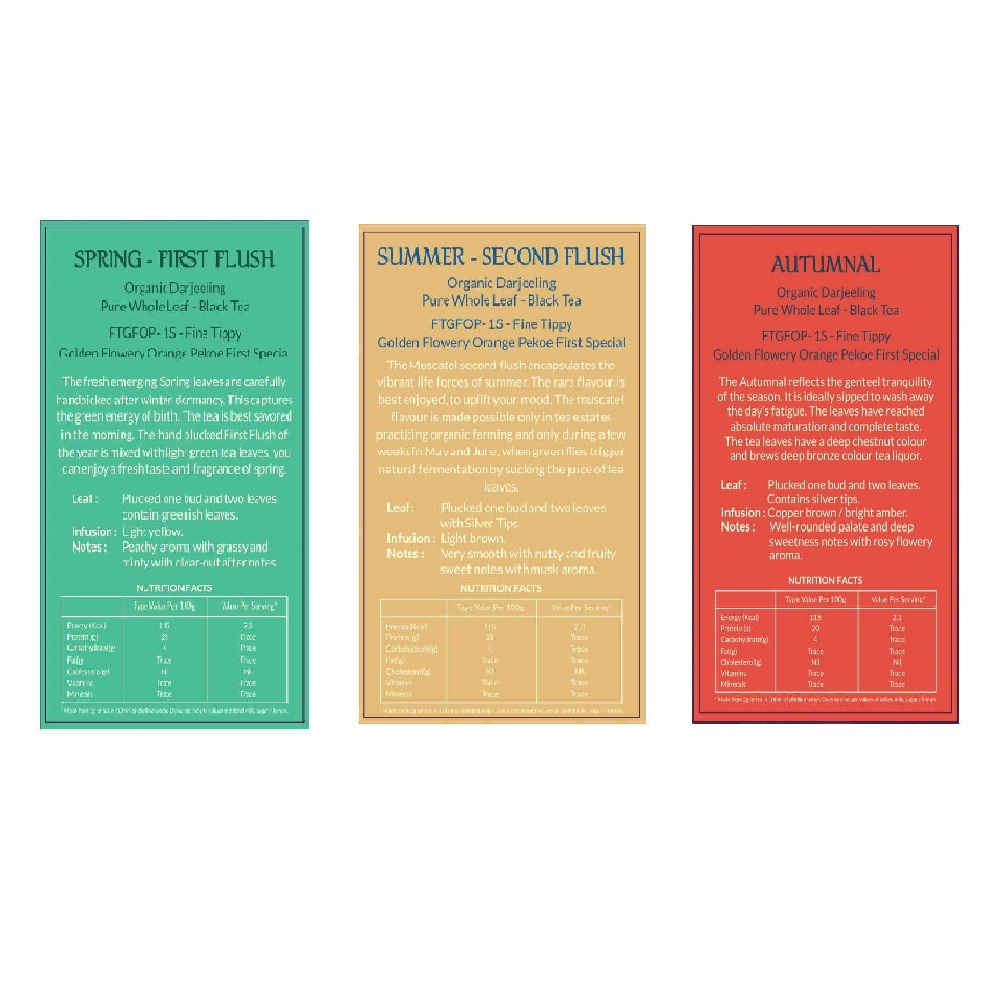 Darjeeling Tea Collection Set of 3
Hand plucked Spring First Flush, Summer Second Flush & Autumnal Flush which is Pure Whole Leaf and Organic tea.
Read More...
SKU Code: 2510002 | Weight: 50 X 3 Gms
Organic Darjeeling - Pure Whole Leaf - Black Tea
FTGFOP- 1S - Fine Tippy Golden Flowery Orange Pekoe

1. First Flush ( Spring Tea )
The fresh emerging Spring leaves are carefully handpicked after winter dormancy. This captures the green energy of birth. The tea is best savored in the morning. The hand plucked First Flush of the year is mixed with light green tea leaves, you can enjoy a fresh taste and fragrance of spring.

Leaf: Plucked one bud and two leaves contain greenish leaves.
Infusion: Light yellow
Notes: Peachy aroma with grassy and minty with clear-out after notes.
2. Second Flush ( Muscatel Tea )
The Muscatel second flush encapsulates the vibrant life forces of summer. The rare flavour is best enjoyed, to uplift your mood. The muscatel flavour is made possible only in tea estates practicing organic farming and only during a few weeks in May and June, when green flies trigger natural fermentation by sucking the juice of tea leaves.

Leaf: Plucked one bud and two leaves with Silver Tips.
Infusion: Light brown
Notes: Very smooth with nutty and fruity sweet notes with musk aroma.
3. Autumnal Tea
The Autumnal reflects the genteel tranquility of the season. It is ideally sipped to wash away the day's fatigue. The leaves have reached absolute maturation and complete taste. The tea leaves have a deep chestnut colour and brews deep bronze colour tea liquor.

Leaf: Plucked one bud and two leaves. Contains silver tips.
Infusion: Copper brown / bright amber
Note: Well-rounded palate and deep sweetness note with rosy flowery aroma

Matching style with substance every sip of CRAFT HOUSE SPECIAL TEA taste amazing and smells divine, uplifting the mood and creating a sensation of well being and freshness.
Dispatched in approximately 7 Working Days. To save on shipping charges buy multiple products.
Tea for 2 cups
1, Boil fresh water
2, Place 5.2g of tea leaves into the pot
3, Pour 600ml of fresh water
4, Brew it for 6 minutes
5, Pour the tea into the tea cups