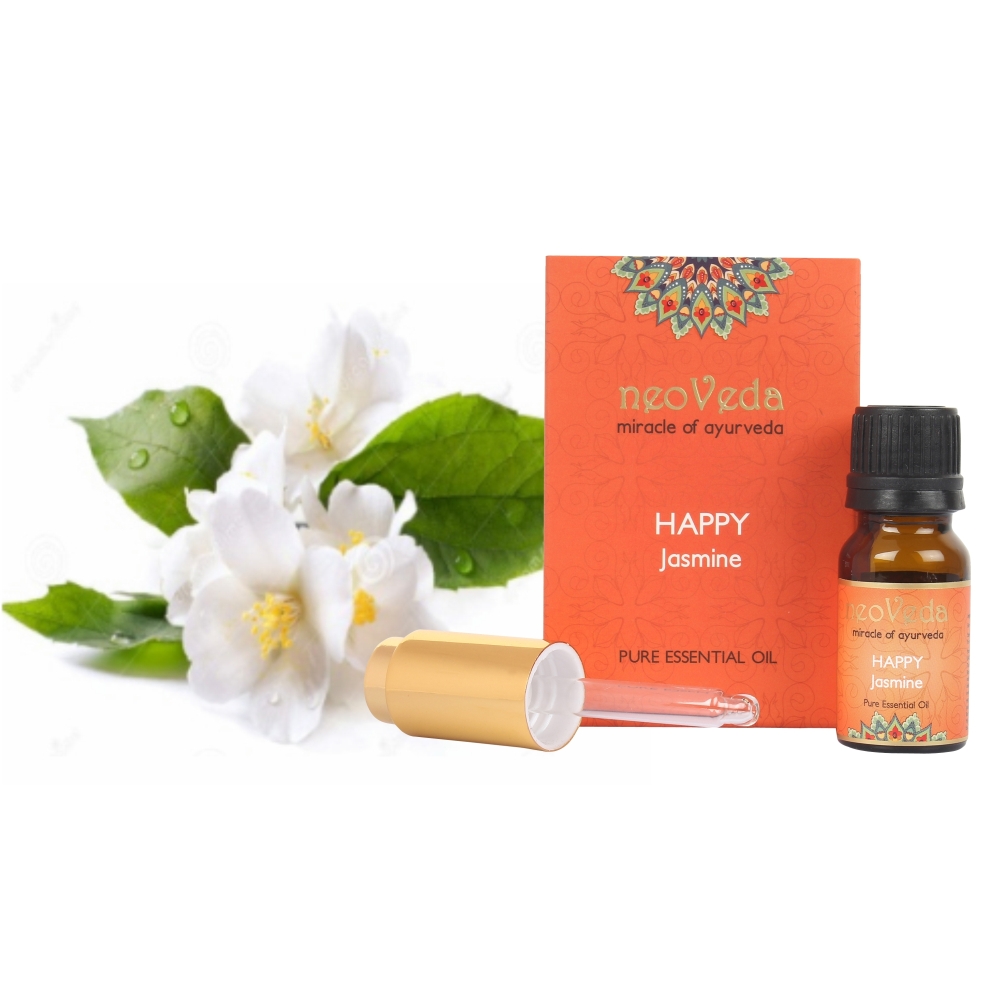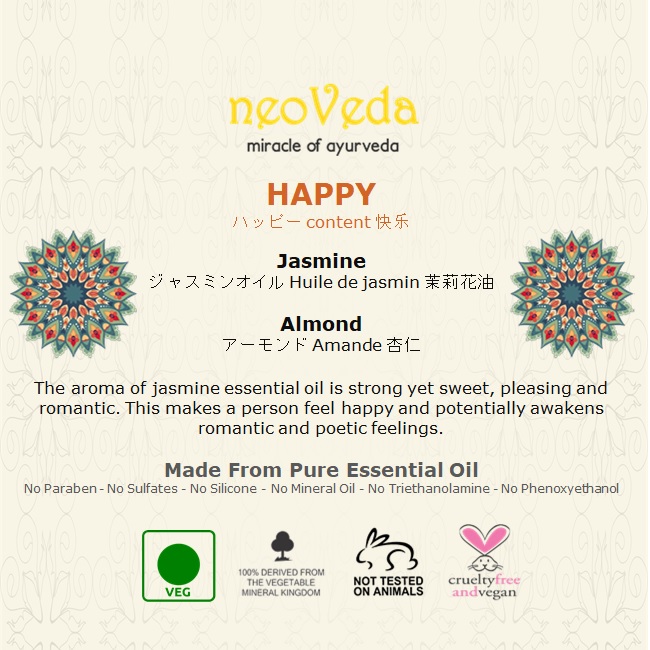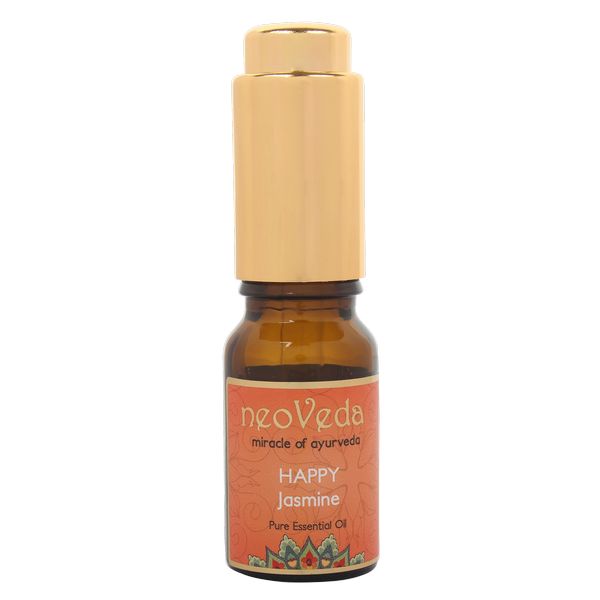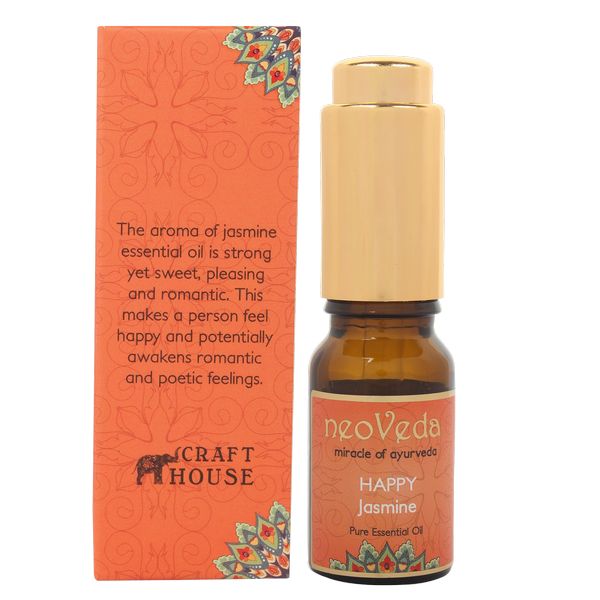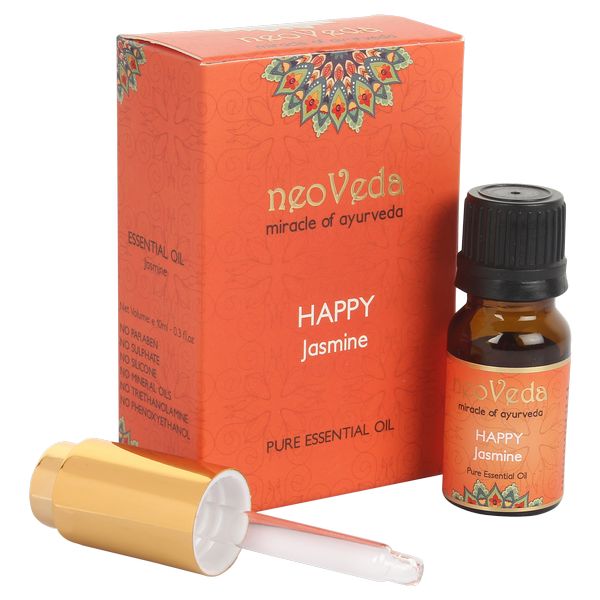 HAPPY
Jasmine Essential Oil
The aroma of jasmine essential oil is strong yet sweet, pleasing and romantic. This makes a person feel happy and potentially awakens romantic and poetic feelings.
Read More...
Ingredients of Natural Origin: 100%
No Paraben | No Sulphate | No Silicone | No Mineral Oil | No Triethanolamine | No Phenoxyethanol
SKU Code: 2430017 | Weight: 10ml
HAPPY
Jasmine Oil
The jasmine flower is often associated with romance and love.
The aroma of happy jasmine essential oil is strong, along with being sweet, pleasing and romantic and stimulates the release of certain hormones in the body which results in the boost of energy.
This makes a person feel happy and potentially awakens romantic and poetic feelings.
Owing to antiseptic properties, jasmine essential oil is also used to treat dermatological conditions like eczema or psoriasis.
Key Ingredient(s)
Jasmine

Jasmine Essential Oil awakens your mind and boosts energy levels.

Almond

Almond helps in reducing dryness and enhances skin complexion.
Ingredient(s)
Jasminum (Jasmine) oil & Prunus dulcis (Almond) oil.
neoVeda is certified from PETA for all products without cruelty on animals. People for the Ethical Treatment of Animals(PETA) is the largest animal rights organization in the world.
Not for Medical Use. For External use only. Store tightly capped in original bottle in a cool and dark place. Exposure to sunlight and air will damage the oil. This product is not intended to diagnose, treat, cure or prevent any disease.
Neoveda is the modern day adaptation of Ayurveda (Ancient knowledge of life and well being) and is a natural way to rejuvenate and relax both body and mind. Neoveda products are designed to balance 3 Bio Energies known as Vata, Pitta & Kapha in Ayurveda.The unique combination of Essential Oils and Plants Extracts keep skin and hair beautifully healthy and keeps mind relaxed.
Dispatched in approximately 7 Working Days. To save on shipping charges buy multiple products.
Dilute upto 10 drops of essential oil with 30 ml of carrier oil for body massage.
Add to bath water.
Diffuse 3-4 drops in a diffuser for aroma.