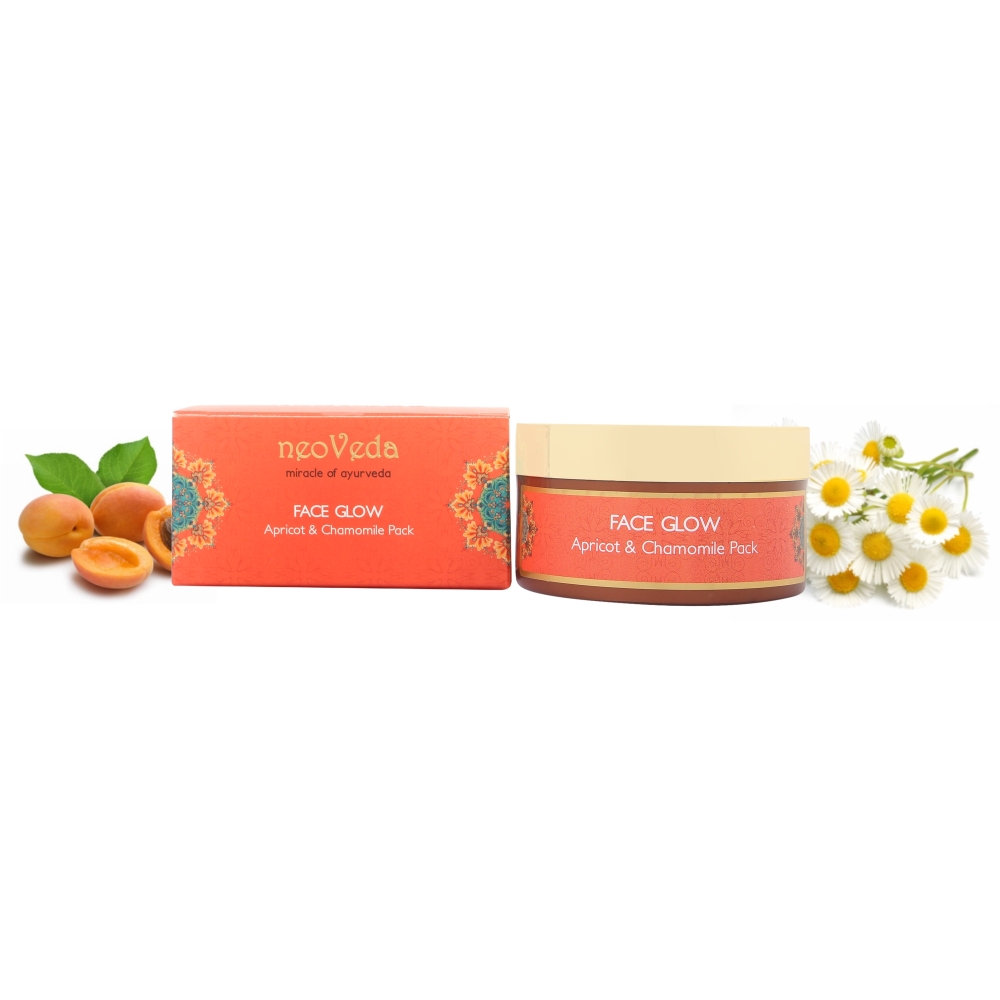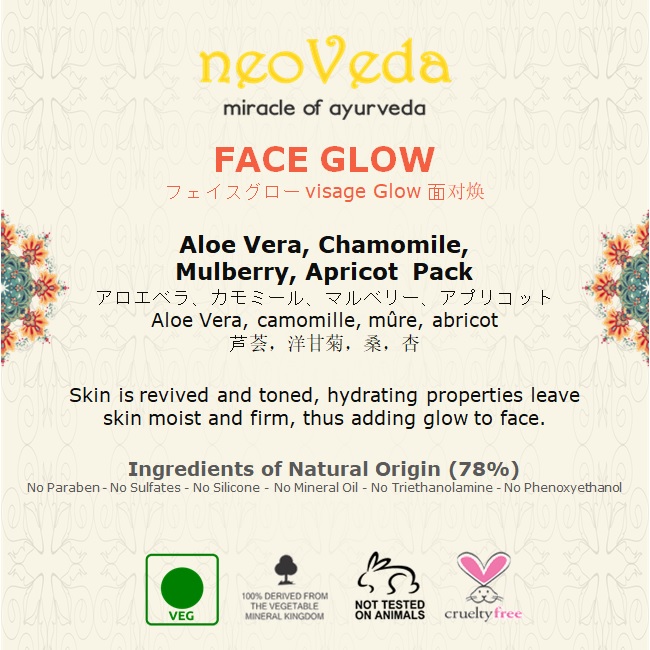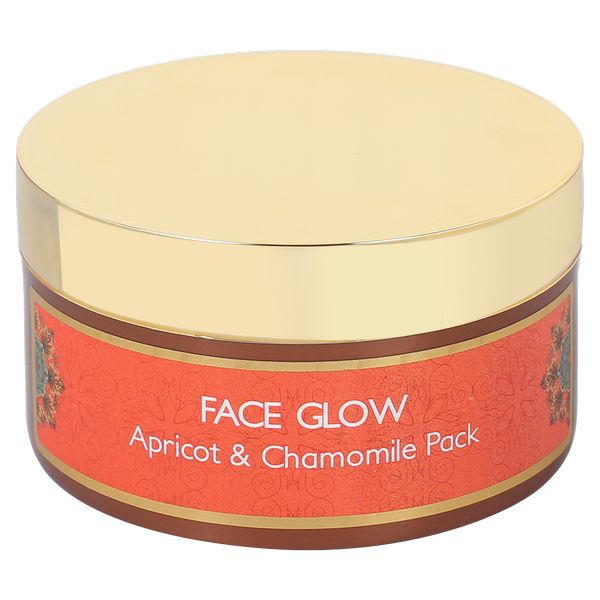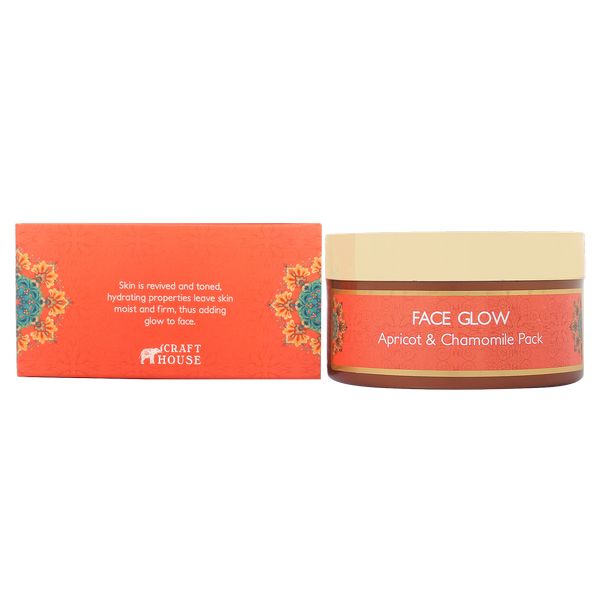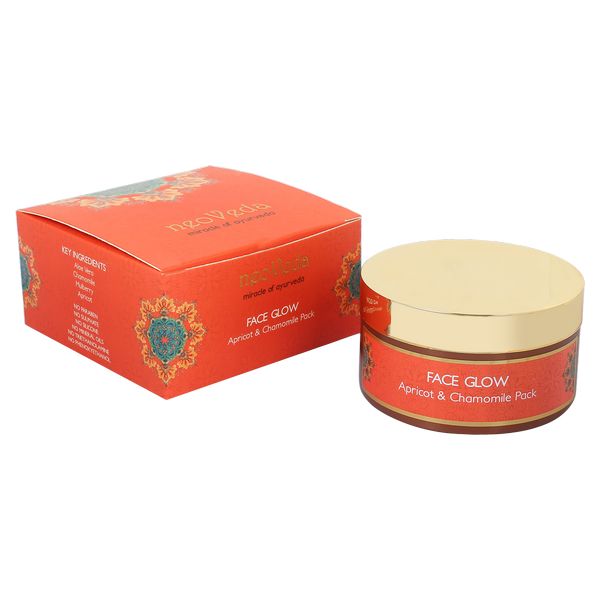 FACE GLOW
Apricot & Chamomile Pack
Skin is revived and toned, hydrating properties leave skin moist and firm, thus adding glow to face.
Read More...
Ingredients of Natural Origin: 78%
No Paraben | No Sulphate | No Silicone | No Mineral Oil | No Triethanolamine | No Phenoxyethanol
SKU Code: 2410017 | Weight: 100ml
FACE GLOW
Apricot & Chamomile Pack
Ready to use hydrating pack/mask with Apricot and chamomile, powerful moisture retainer.
Softens fine lines and wrinkles and skin appears taut and firm.
The mild fragrance relaxes mind.
Key Ingredient(s)
Aloe Vera

Aloe Vera helps to hydrate the skin and makes it glow.

Chamomile

Chamomile helps in boosting up your skin health.

Mulberry

Mulberry helps in improving skin tone and act as a natural skin lightener.

Apricot

Apricot helps in reducing fine lines and wrinkles and skin appears taut and firm.
Ingredient(s)
Aqua*, Kaolin*, Ceteareth 20 and Cetostearyl Alcohol, Bentonite*, Cetostearyl Alcohol*, Iso Propyl Myristate, Glycerin*, Iso Propyl Alcohol, Glycolic Acid, Magnesium Aluminum Silicate, Polysorbate 20, Garcinia Indica Seed Butter*, Niacinamide, Magnesium Carbonate, Diheptyl Succinate (and) Capryloyl Glycerin/Sebacic Acid Copolymer*, Glyceryl Caprylate (and) Glyceryl Undecylenate*, Aloe Barbadensis Leaf Juice*, Titanium Dioxide, Prunus Armeniaca (Apricot) Kernel Oil*, Morus Alba (Mulberry)Extract*, Matricaria Recutita (Chamomile) Flower Extract*, Sodium PCA, Fragrance, Chlorphenesin, Tocopheryl Acetate, Olea Europaea (Olive) Leaf Extract (and) Water*, Allantoin, Sodium Gluconate* & Menthol*.
neoVeda is certified from PETA for all products without cruelty on animals. People for the Ethical Treatment of Animals(PETA) is the largest animal rights organization in the world.
Not for medical use. For external use only. Store tightly capped in original container in a cool and dark place. Exposure to sunlight and air will damage the product. This product is not intended to diagnose, treat, cure, or prevent any disease.

Neoveda is the modern day adaptation of Ayurveda (Ancient knowledge of life and well being) and is a natural way to rejuvenate and relax both body and mind. Neoveda products are designed to balance 3 Bio Energies known as Vata, Pitta & Kapha in Ayurveda.The unique combination of Essential Oils and Plants Extracts keep skin and hair beautifully healthy and keeps mind relaxed.
Dispatched in approximately 7 Working Days. To save on shipping charges buy multiple products.
Evenly & thinly apply it on moist skin, when semi dry, rinse off with warm water, apply moisturizer / sunscreen.