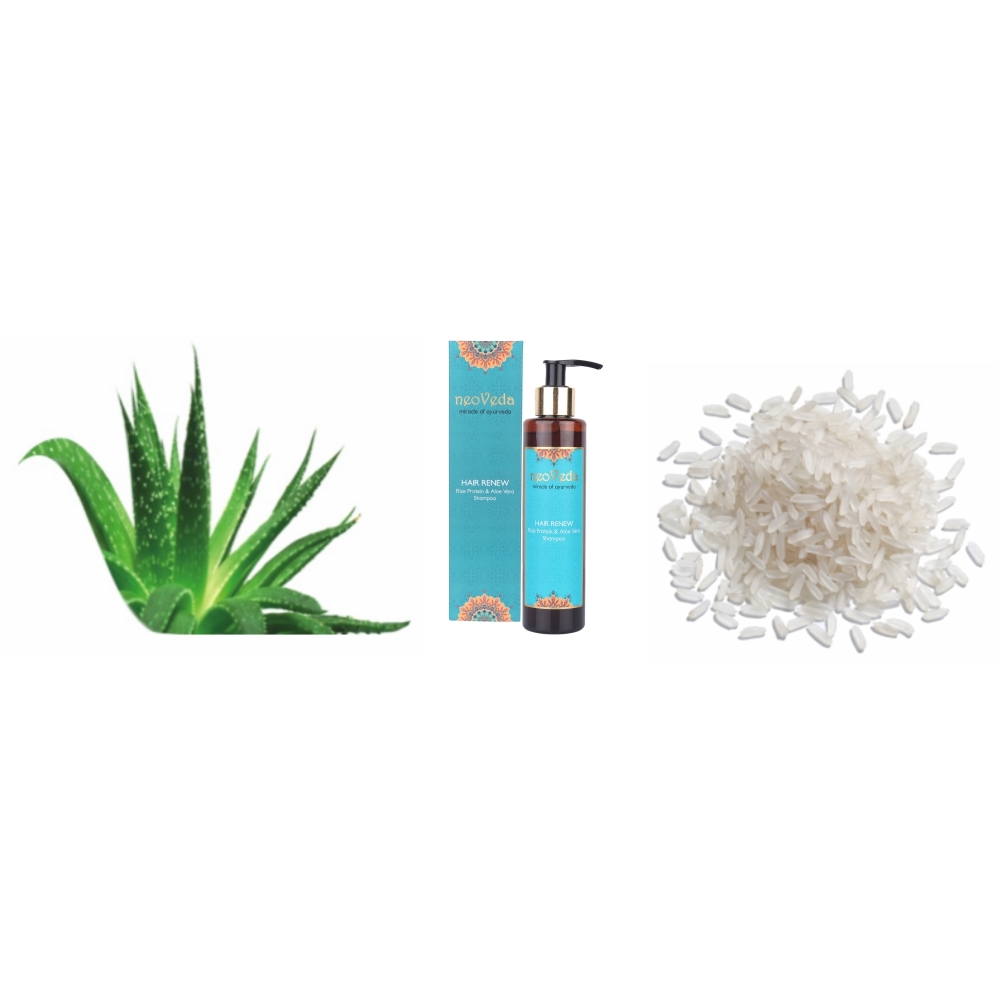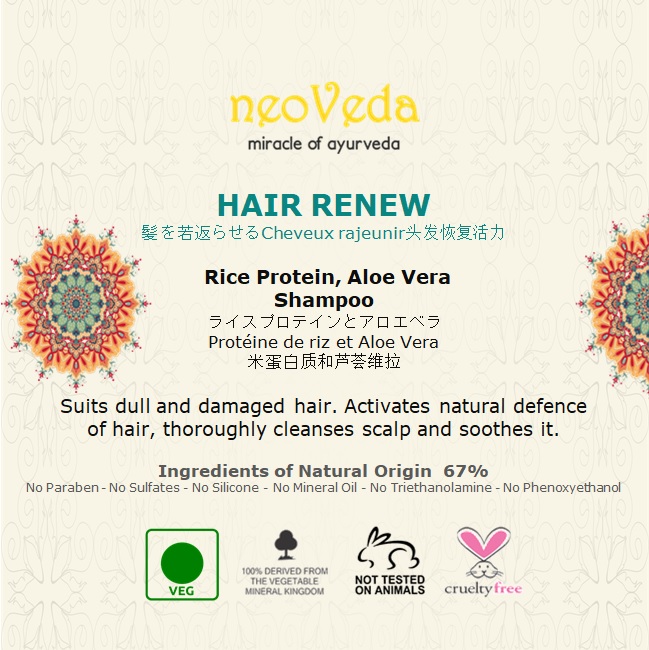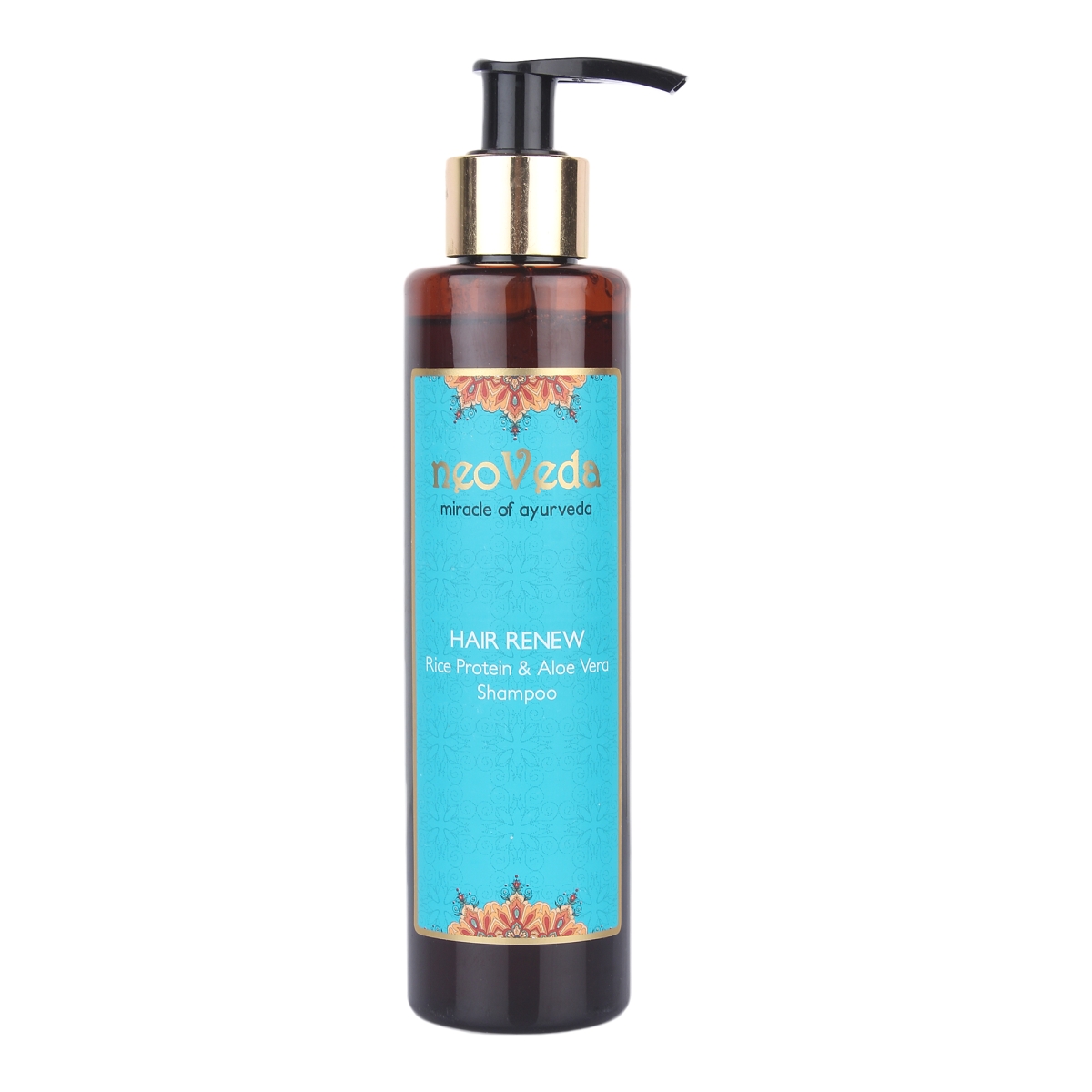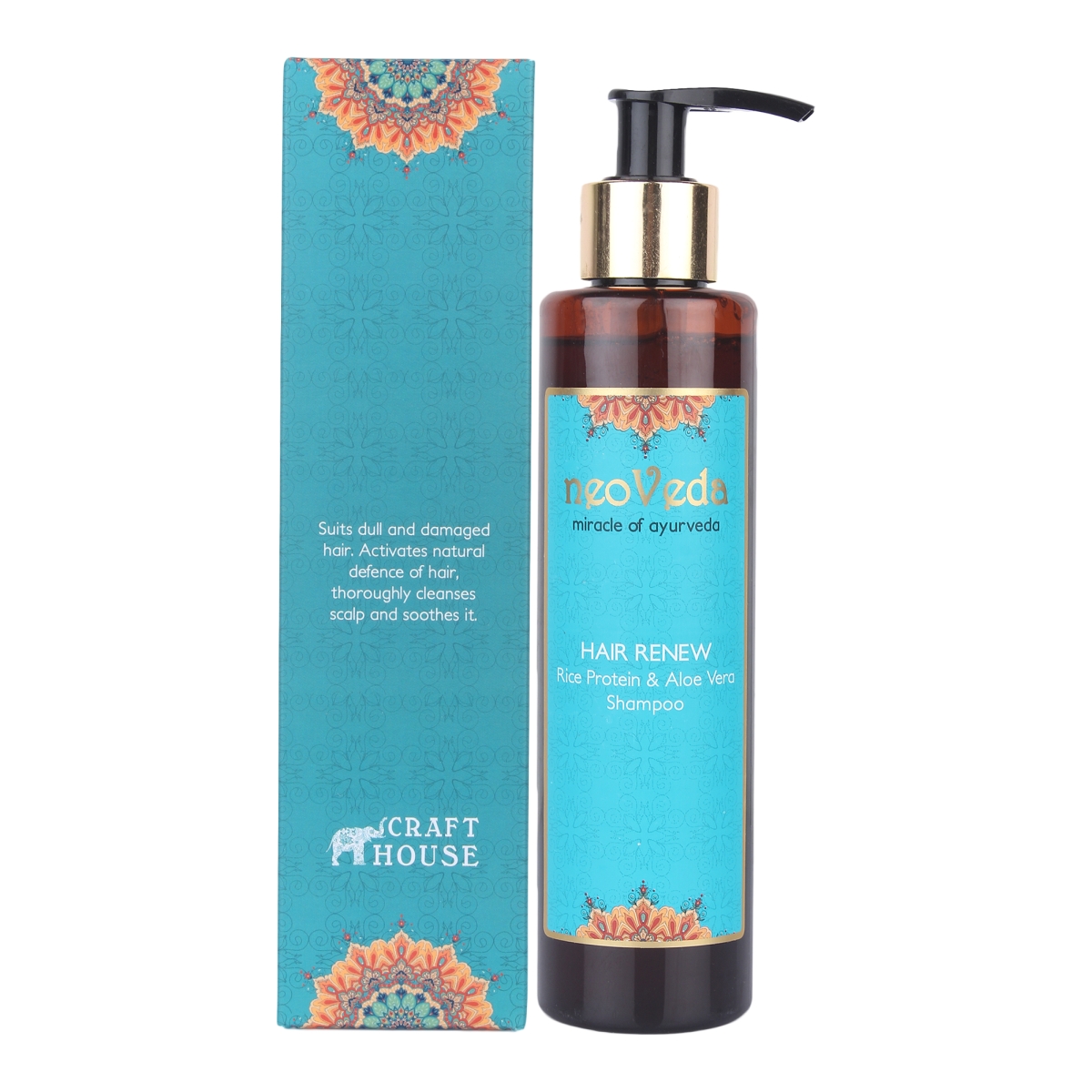 HAIR RENEW
Rice Protein and Aloe Vera Shampoo
Suits dull and damaged hair. Activates natural defence of hair, thoroughly cleanses scalp and soothes it.
Read More...
Ingredients of Natural Origin: 67%
No Paraben | No Sulphate | No Silicone | No Mineral Oil | No Triethanolamine | No Phenoxyethanol
SKU Code: 2420005 | Weight: 200ml
HAIR RENEW
Rice Protein and Aloe Vera Shampoo
● Suits dull and damaged hair.
● Activates natural defence of hair, thoroughly cleanses scalp and soothes it.
● Heals damaged hair work as natural hair conditioner.
● Helps in making hair smooth, shiny and manageable.
● With natural ingredients like Rice Protein that gives you essential nutrients resulting in healthier looking, smoother hair, it also has the goodness of aloe vera that nourishes and conditions the scalp and hair deeply.
● This shampoo is specially formulated for dry, dull hair that lacks luster and shine.
Ingredient(s)
Aqua*, Cocamidopropyl Betaine (And) Glycerin (And) Caprylyl/Capryl Glucoside (And) Sodium Methyl Cocoyl Taurate, Sodium Lauroyl Sarcosinate, Emblica Officinalis (Amla) Extract*, Coco Monoethanolamide, Polyquaternium-7, Polyquaternium-73, Glycerin*, Cetrimonium Chloride, Acacia Concinna (Shikakai) Extract*, Aloe Barbadensis Leaf Juice*, Polyquaternium-10, Fragrance, Sapindus Trifoliatus (Reetha) Extract*, D-Panthenol, Chlorphenesin, PEG 150 Distearate, Sodium Benzoate, Potassium Sorbate, Hydrolyzed Rice Protein*, Rosa Chinensis (Rose) Petal Extract*, Di Sodium EDTA & Citric Acid.
neoVeda is certified from PETA for all products without cruelty on animals. People for the Ethical Treatment of Animals(PETA) is the largest animal rights organization in the world.
Not for medical use. For external use only. Store tightly capped in original container in a cool and dark place. Exposure to sunlight and air will damage the product. This product is not intended to diagnose, treat, cure, or prevent any disease.
Neoveda is the modern day adaptation of Ayurveda (Ancient knowledge of life and well being) and is a natural way to rejuvenate and relax both body and mind. Neoveda products are designed to balance 3 Bio Energies known as Vata, Pitta & Kapha in Ayurveda. The unique combination of Essential Oils and Plants Extracts keep skin and hair beautifully healthy and keeps mind relaxed.
Dispatched in approximately 7 Working Days. To save on shipping charges buy multiple products.
Apply shampoo to wet hair and massage into your scalp and rinse.
Repeat if necessary.