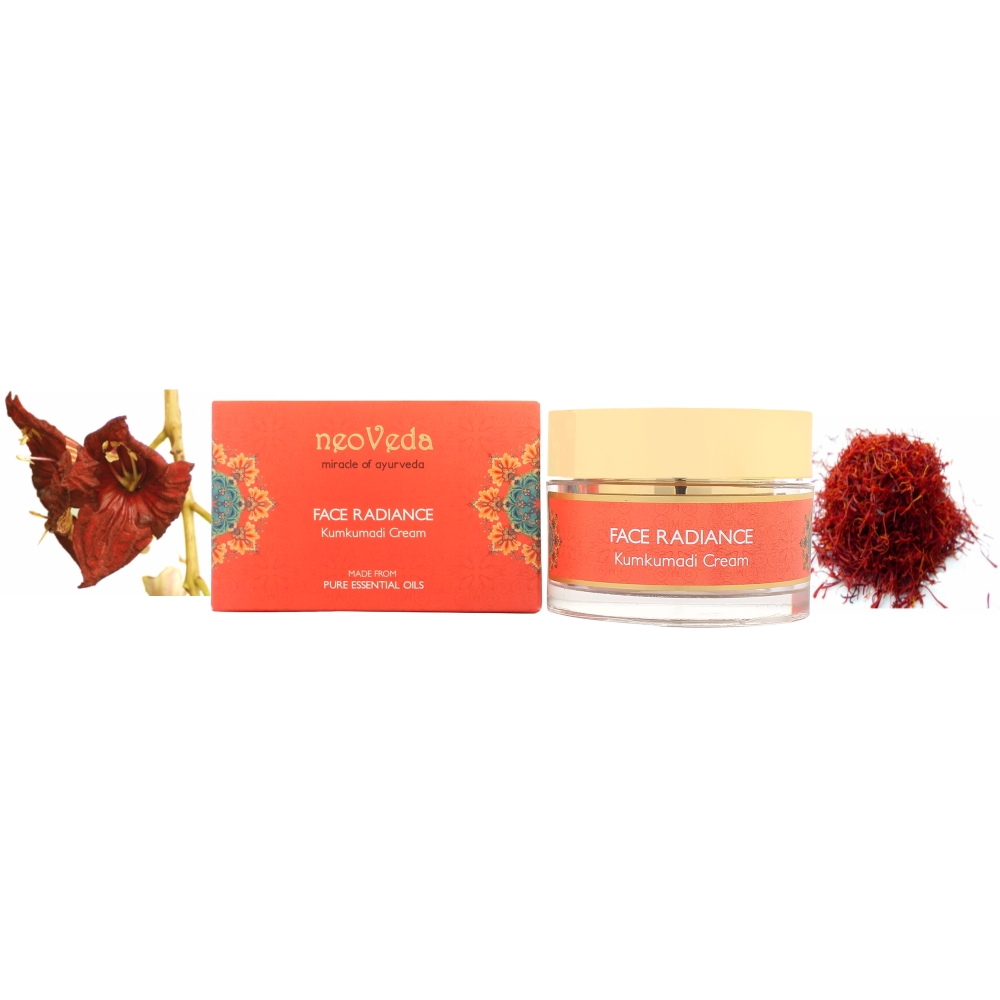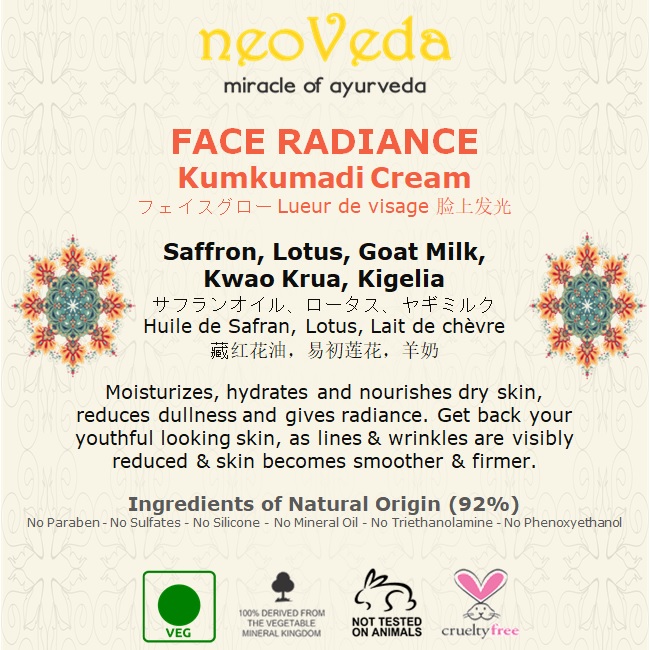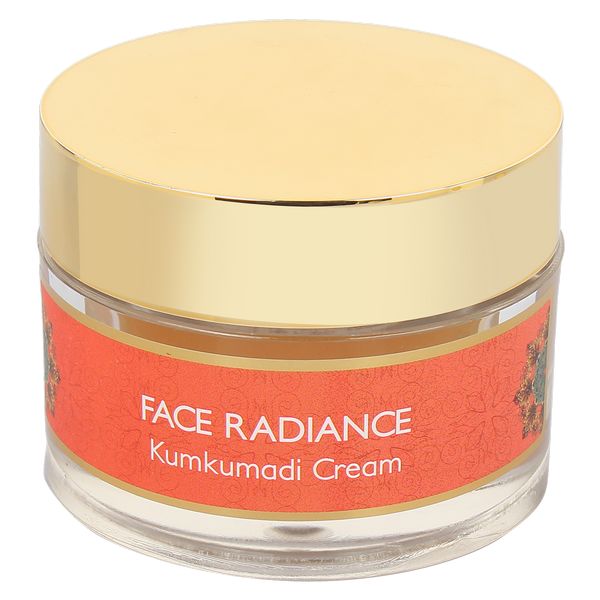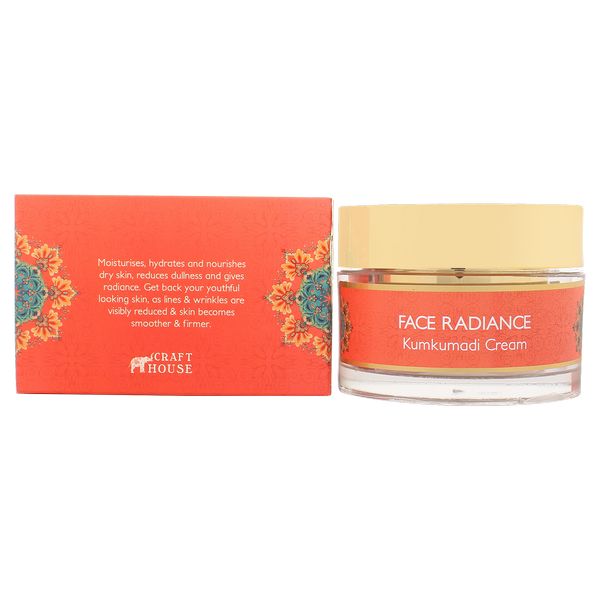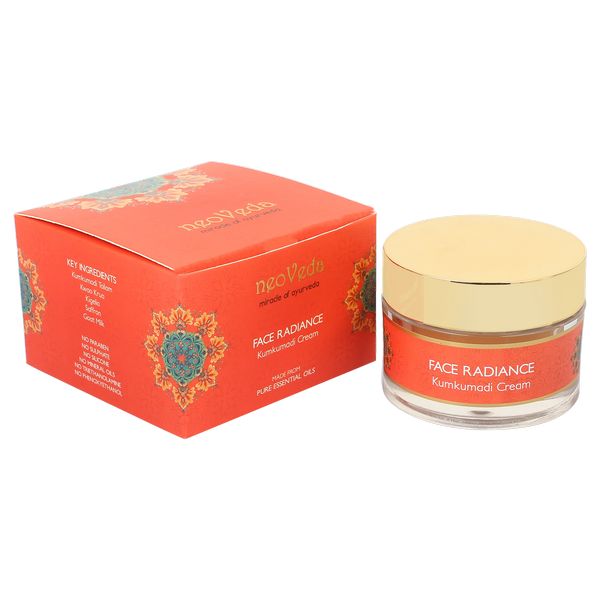 FACE RADIANCE
Kumkumadi Cream
Moisturises, hydrates and nourishes dry skin, reduces dullness and gives radiance. Get back your youthful looking skin, as lines & wrinkles are visibly reduced & skin becomes smoother & firmer.
Read More...
Ingredients of Natural Origin: 92%
No Paraben | No Sulphate | No Silicone | No Mineral Oil | No Triethanolamine | No Phenoxyethanol
SKU Code: 2410009 | Weight: 50ml
FACE RADIANCE
Kumkumadi Cream
Made with highly respected Ayurvedic Kumkumadi Tailam, has natural & effective ingredients to deeply heal & repair skin, keeps complexion radiant & beautiful and is anti aging.
Kwao krua extract is an elixir to slow down aging process & Kigelia extract promotes elasticity, naturally lighten pigmentation & reduces blemishes.
Key Ingredient(s)
Kwao Krua

Kwao krua extract is an elixir to slow down aging process.

Kigelia

Kigelia fruit extract has an antibacterial property which fights acne-causing bacteria .

Saffron

Saffron helps in reducing wrinkles and dry skin.

Goat Milk

Goat Milk improves skin complexion and texture, makes it radiant & beautiful.
Ingredient(s)
Aqua*, Cetyl Alcohol*, Caprylic/Capric Triglyceride*, Isoamyl Laurate*, Dicaprylyl Carbonate, Coco Caprylate-Caprate*, Glycerin*, Sorbitan Olivate (and) Cetearyl Olivate*, Glyceryl Monostearate*, Betaine*, Boerhavia Diffusa (Punarnava) Root Extract*, Kigelia Africana Bark Extract*, Pueraria Mirifica (Kwao krua) Root Extract*, Kumkumadi Tailam* (Vetiveria Zizanioides, Aquilaria Agailocha, Laccifer Lacca, Glycyrrhiza Glabra, Santalum Album, Ficus Benghalensis, Prunus Cerasoides, Nelumbo Nucifera, Monochoria Vaginalis, Goat's Milk, Sesamum Indicum, Crocus Sativus (Saffron) Oil), Glyceryl Stearate Citrate*, Cera Alba, Glyceryl Caprylate (and) Glyceryl Undecylenate*, Glyceryl Citrate / Lactate / Linoleate / Oleate*, Fragrance, L-Arginine, Niacinamide, Sodium PCA, Urea, Carbomer, Shorea Robusta Seed Butter*, Tocopheryl Acetate, Allantoin, Chlorphenesin, Olea Europaea (Olive) Leaf Extract (and) Water*, Sodium Gluconate*, Sodium Hyaluronate & Crocus Sativus (Saffron) Oil*.
neoVeda is certified from PETA for all products without cruelty on animals. People for the Ethical Treatment of Animals(PETA) is the largest animal rights organization in the world.
Not for medical use. For external use only. Store tightly capped in original container in a cool and dark place. Exposure to sunlight and air will damage the product. This product is not intended to diagnose, treat, cure, or prevent any disease.

Neoveda is the modern day adaptation of Ayurveda (Ancient knowledge of life and well being) and is a natural way to rejuvenate and relax both body and mind. Neoveda products are designed to balance 3 Bio Energies known as Vata, Pitta & Kapha in Ayurveda. The unique combination of Essential Oils and Plants Extracts keep skin and hair beautifully healthy and keeps mind relaxed.anti ageing
Dispatched in approximately 7 Working Days. To save on shipping charges buy multiple products.
After face cleansing & toning.
Apply cream on moist skin & massage gently.