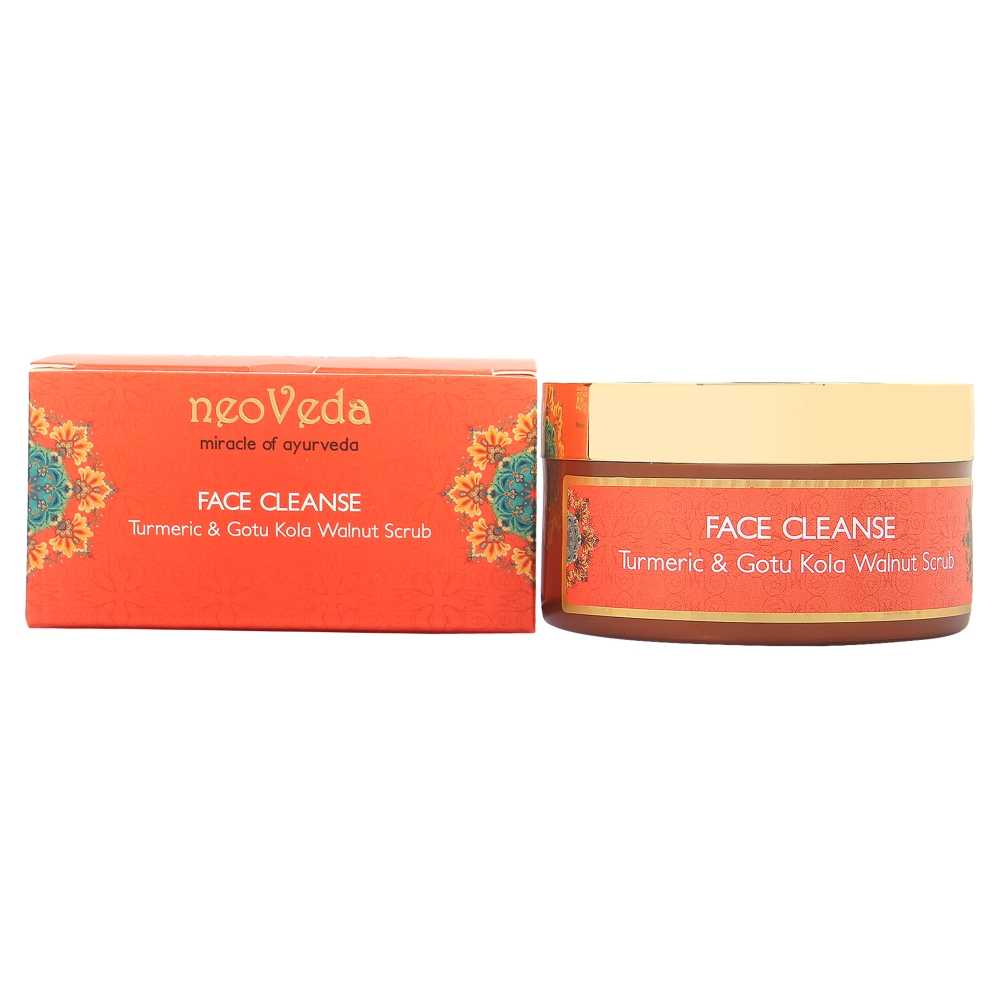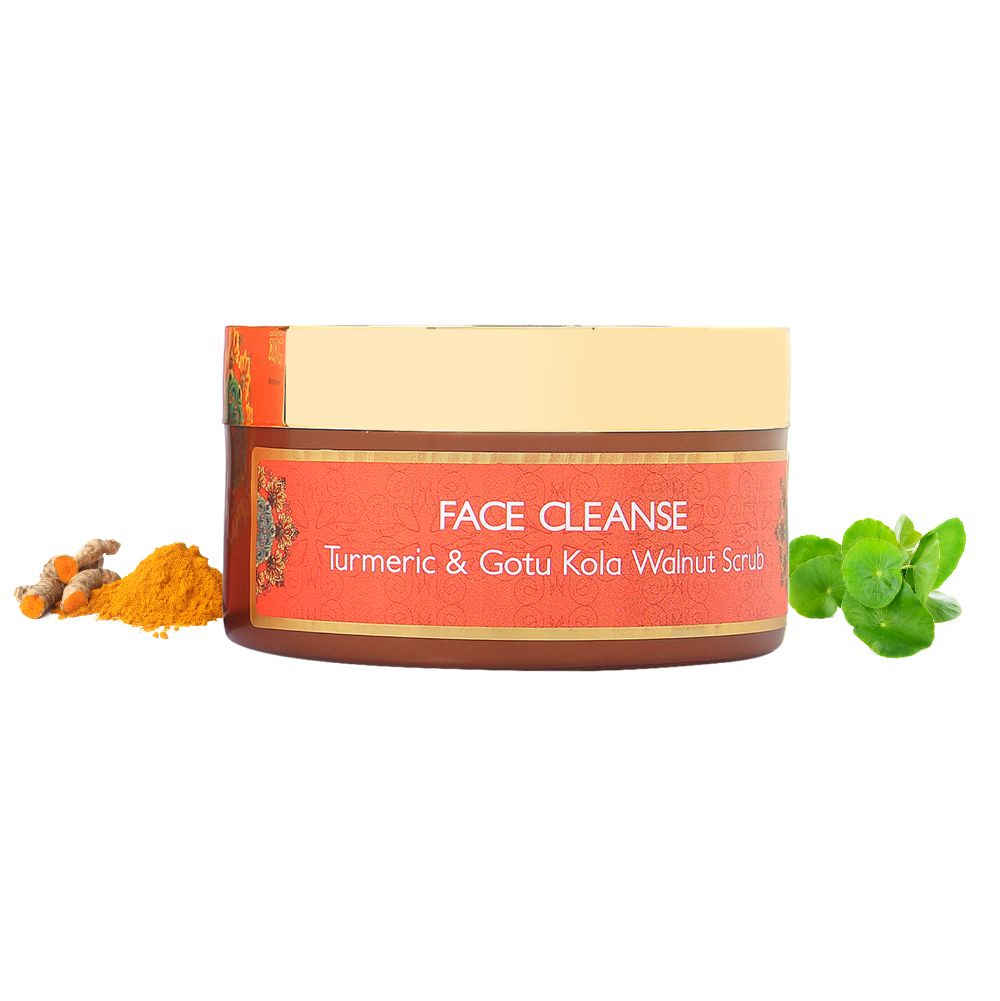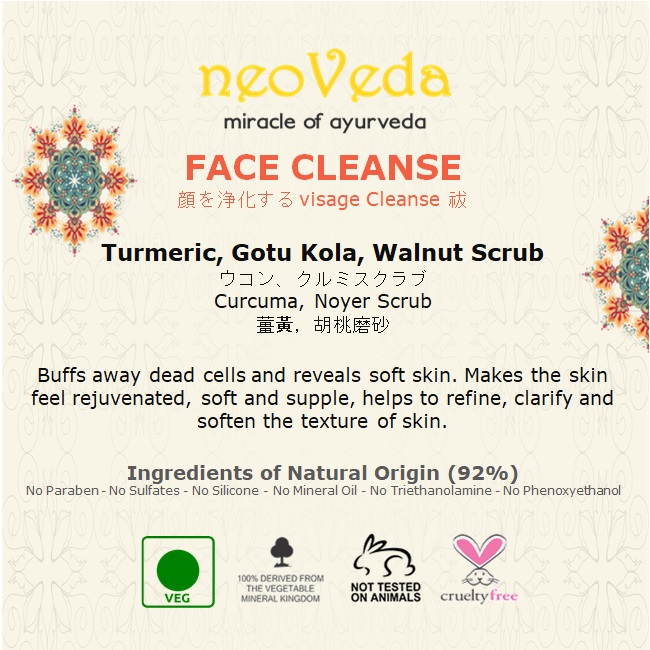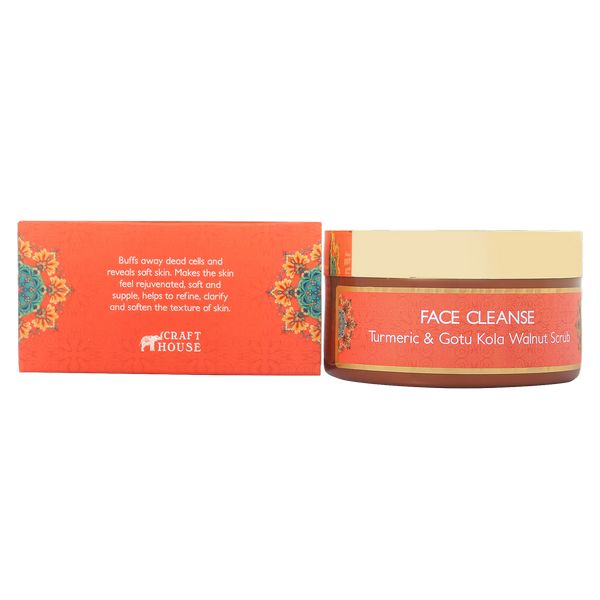 FACE CLEANSE
Turmeric, Gotu Kola & Walnut Scrub
Buffs away dead cells and reveals soft skin. Makes the skin feel rejuvenated, soft and supple, helps to refine, clarify and soften the texture of skin.
Read More...
Ingredients of Natural Origin: 92%
No Paraben | No Sulphate | No Silicone | No Mineral Oil | No Triethanolamine | No Phenoxyethanol
SKU Code: 2410014 | Weight: 100ml
FACE CLEANSE
Turmeric, Gotu Kola & Walnut Scrub

● Buffs away dead cells and revealing soft skin.
● Makes the skin feel rejuvenated, soft and supple, helps to refine, clarify and soften the texture of skin.

Ingredient(s)
Aqua*, Cetostearyl Alcohol*, Ceteareth 20 and Cetostearyl Alcohol, Glyceryl Monostearate*, Walnut Shell Powder*, Sesamum Indicum (Sesame) Seed Oil*, Glycerin*, Iso Propyl Myristate, Curcuma Longa (Turmeric) Rhizome Extract*, Glyceryl Caprylate (and) Glyceryl Undecylenate*, Prunus Amygdalus Dulcis (Sweet Almond) Oil*, Aloe Barbadensis Leaf Juice*, Titanium Dioxide, Centella Asiatica (Gotukola) Extract*, Decyl Glucoside*, Polysorbate-20, Triticum Vulgare(Wheat Germ)Oil*, Niacinamide, Prunus Armeniaca (Apricot) Kernel Oil*, Chlorphenesin, Fragrance, Olea Europaea (Olive) Leaf Extract (and) Water* & Sodium Gluconate*.
neoVeda is certified from PETA for all products without cruelty on animals. People for the Ethical Treatment of Animals(PETA) is the largest animal rights organization in the world.
Not for medical use. For external use only. Store tightly capped in original container in a cool and dark place. Exposure to sunlight and air will damage the product. This product is not intended to diagnose, treat, cure, or prevent any disease.

Neoveda is the modern day adaptation of Ayurveda (Ancient knowledge of life and well being) and is a natural way to rejuvenate and relax both body and mind. Neoveda products are designed to balance 3 Bio Energies known as Vata, Pitta & Kapha in Ayurveda.The unique combination of Essential Oils and Plants Extracts keep skin and hair beautifully healthy and keeps mind relaxed.
Dispatched in approximately 7 Working Days. To save on shipping charges buy multiple products.
Moisten face and throat.
Apply with wet finger tips and massage gently (carefully avoiding eyes area).
Rinse well and pat dry. Apply cream or moisturiser.